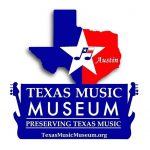 Temporary Change In Hours of Operation
Recently, the Texas Music Museum became the only tenant in this building.
For security reasons, we can no longer leave the building unlocked all day and available for self tours, unless one of our volunteers is at the museum.
We are an all volunteer organization, and are currently in the process of establishing a regular schedule with volunteer staffing.
We expect to post our new schedule by mid December onthe museum front door and facebook.com/texasmusicmuseum
If you would like to schedule a group or individual tour before the new schedule is posted, please call 512-203-4875 or email texasmusicmuseum2@gmail.com
Thank you for your interest in the Texas Music Museum, and we look forward to your visit.