TEXAS  COUNTRY WESTERN MUSIC LEGENDS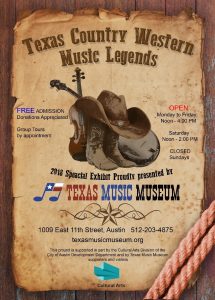 is now showing at the Texas Music Museum, and has on display three collections of 20th-century music, singers/songwriters:
Texas Cowboys and Cowgirls
Texas Western Swing
Texas County Western Music.
Each collection features individual artists/groups, their musical careers, and legacies that distinguish them as Texas Country and Western Music Legends. Seventy Texas Country Western Legends are represented in this Exhibit.
Examples:
In 1922, Texas fiddler Eck Robertson made history as the first to record instrumental country music. Vocalist Vernon Dalhart's career peaked in 1924 with the release of "The Prisoner's Song", which is considered to be the first million-selling country record.
Bob Wills, Asleep at the Wheel and other Texas western swing legends are represented in the exhibit.
Among the several singing cowboys/cowgirls presented are Gene Autry and Dale Evans.
And what Texas country western exhibit would be complete without spotlighting George Strait, Willie Nelson, Waylon Jennings, Lyle Lovett, and many other well-known stars.
Visitors learn about the distinct genres of Texas County and Western music, legendary Texas songwriters and artists, and view interesting memorabilia in display cases specific to each collection. A unique piece of memorabilia is a photograph of Vernon Dalhart in an advertisement for an early Edison record player. That antique player is also part of the exhibit.  Visitors have the opportunity to listen to musical selections by each of the artists in the exhibit using their smartphones and QR code readers.
This project is supported in part by the Cultural Arts Division of the City of Austin Economic Development Department.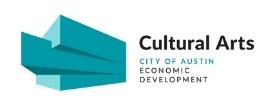 The Texas Music Museum (TMM) collects and preserves artifacts, documents and reference material relevant to the numerous traditions of
Texas music and utilizes these collections for presentation of exhibits, programs, and performances which all celebrate the diversity of Texas music.  TMM is a nonprofit organization and has been in existence for over 30 years.