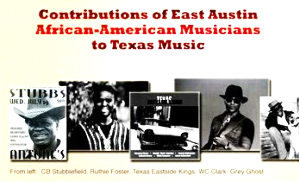 View Exhibit in the Back Gallery
This spotlight exhibit focuses on East Austin's African-American music history, and explores the musical legacies of artists whose contributions help establish Austin as a "Live Music Capital of the World".
In 2020, the exhibit was significantly updated and expanded and includes rare photographs, biographies, historic posters, recordings, and live music videos.
Display cases feature items from the Victory Grill and The Music Professors, plus instruments and memorabilia from featured artists and East Austin Blues and Jazz communities.
The multi-genre exhibit explores Blues, Ragtime/ Barrelhouse,  Jazz, and Gospel Music.  The Exhibit is the result of more than 30 years of research and documentation by The Texas Music Museums volunteers in an effort to preserve the rich heritage of East Austin's African-American musicians.  This important ever-growing, "living" exhibit is permanently on display at the Texas Music Museum since 2012 and is continuously updated.  It is a one-of-a-kind exhibit! View it in the back Gallery of the Texas Music Museum.
Because the pandemic required Texas Music Museum to close for most of 2020, four virtual programs were developed for the public's online viewing.  Three of the programs are the initial installments in a series of online programs highlighting East Austin Music and Musicians.  View them from the Virtual Programs link on this website.