Vision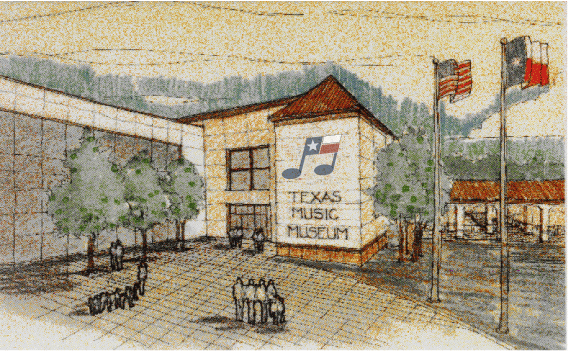 A permanent, world-class home for the Texas Music Museum seems only appropriate in Austin, the capital of Texas, proud home of hundreds of musicians and music-related businesses, and the "Live Music Capital of the World".
The proposed Texas Music Museum would include 100,000 square feet, would be architecturally significant and a wonderful addition to the Austin skyline.  Large and inclusive, while also warm and inviting, the design will center around numerous gallery spaces of interactive exhibitions that will cover all aspects of Texas' musical history.  There will be both permanent exhibits as well as special temporary ones.  TMM will also continue to present musical performances in indoor and outdoor performing areas that will additionally be used for presenting music festivals.
A large classroom for the Museum's lecture series will be incorporated into the plans, as well as smaller classrooms for both adult and children's educational activities. There will also be meeting space for Austin's diverse music organizations. Additionally, a gift shop with an extensive collection of Texas music recordings and other Texas music items will be included.
In a new, large facility, TMM will be able to greatly expand its already impressive collection of recordings, photographs, interviews, and other artifacts pertaining to Texas' music heritage. There will be more space to both create exhibits for the public and properly store the unique and priceless collections that the Museum has amassed over the years. Innovative cataloging and management systems implemented in the new space will also facilitate the use of the collections within the Museum, by scholars, the public, and other interested organizations.