Gospel music grew out of the ancient Christian oral traditions for story telling, and became a major tradition among African-American slaves. After emancipation and the establishment of independent churches, houses of worship became pillars of the community for all sorts of purposes — religious services, worship, meeting places, and music venues.
Austin's East Side churches cultivated many gospel singers, composers, and groups that came to wider fame, making an impact not only on the local community, but the entire recording industry.
Learn more about some of Austin's Gospel Legends
Clifford De'Shun Boyd
Boyd was a popular performer and entertainer in Austin, and served in theaters, community concerts, weddings, restaurants and clubs. Boyd, also a gifted composer, will be remembered for his compositions Alley-Today, Pass Me Not, and Sixth Street Stroll, just to name a few.
Tim Curry
Curry moved to Austin at 19 and traveled around the U.S. with the World of Pentecost Church Choir. He formed a band with members from his church called Street Band during this time. They performed Rock, Gospel, and Soul. In 1984, he received the award for "Best Contemporary Gospel Artist of the year" from the Gospel Workshop of America.
The Bells of Joy
In 1952, the Bells of Joy became very popular with their release on Peacock Records, Let's Talk About Jesus, written by Lavada Durst. The special style of the "Bells of Joy" made the hymn a national hit. The "Bells of Joy" continue to put joy into the inspiring words of old and new songs done in praise of the giver of real joy.
Virgie Mae Carrington DeWitty
Mrs. DeWitty composed over eighty-five anthems, spirituals, and gospel songs for choirs, and was the first African American choir director to have a commercial radio program in Texas with the Bright And Early choir.
Ermant "Jr." Franklin
His career with in Gospel lasted more than 20 years and he wrote many major hits. Honors bestowed upon Junior and his groups include two Grammys, six Grammy nominations, the NAACP Image Award and three Gospel Music Workshop of America Awards.
Bill "The Mailman" Martin
After a long career spanning the United States, education at Juilliard, serving in the Korean War at Bergstrom Air Force Base, driving a subway train in New York, working as a mailman for 30 years, gospel singer and radio host, Martin organized the Texas Gospel Announcer's Guild, which continues to be active throughout Texas. In 2010, Martin was honored with a celebration for his induction into the International Gospel Hall of Fame.
The Chariettes
The Chariettes formed in 1950 and gained distinction because each member's voice had a unique musical quality and all were talented musicians. The Chariettes celebrated their fiftieth anniversary with a reunion at St. James Missionary Baptist Church on July 2, 2000.
Elmer Akins
Elmer Akins was a gospel singer, manager, and radio announcer, as well as a shoe-shiner and handyman. He began his long career as a gospel announcer for KVET in 1947. He had been an active promoter of gospel music and had the longest running gospel music radio program in the United States.
The Paramount Singers
The Paramount Singers organized in front of the old Anderson High School on Comal Street in Austin in later 1936. The original members included Rev. E. M. Franklin, Rev. A. C. Franklin, Ben H. Williams, Kermit Terrel, James Harwood Medlock, and Geno Terrel. The members wanted to get involved in something and decided to organize a spiritual group.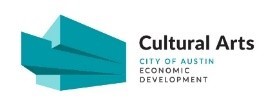 This project is supported in part by the Cultural Arts Division of the City of Austin Economic Development Department.