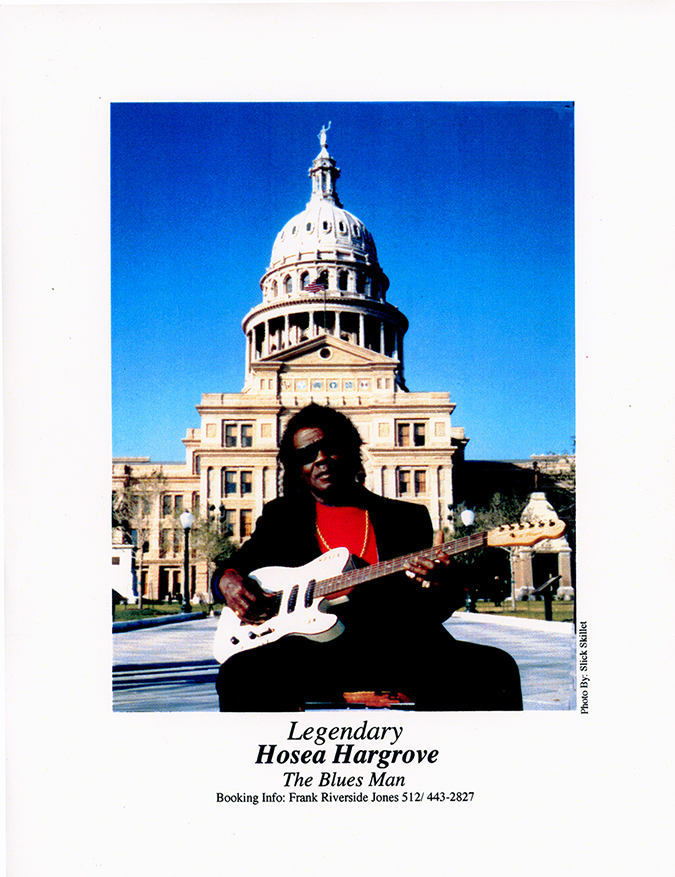 Hosea Hargrove was born in 1937 in Crafts Prairie, home to such luminaries of Texas blues as Sonny Chase and Roosevelt "The Grey Ghost" Williams. His father, a local blues musician, taught him how to play guitar. His father's friend, Sonny Chase, gave him his first guitar and gave him a ride to his first show on the back of his horse. He began playing with his father and his father's friends at Country Suppers.
After graduating from high school in Smithville, and a brief stint working on his uncle's farm, he moved to Dallas. He worked a variety of day jobs before heading west, working throughout the Southwest by day and singing and playing at night. It was in Phoenix, Arizona that he took up the electric guitar, infusing his traditional country blues with a new presence and edge.
Little Son Jackson from Dallas was a major influence on his music during that time. He returned to Central Texas in 1956, taking up residence in Austin's East Side, where he became an essential element of the local blues scene. Hargrove was featured in The Blues Reunion at the Victory Grill and at Antone's.
His influence can be seen in the playing of guitar heroes Stevie Ray Vaughan and Jimmy Vaughn, the latter of whom played with Hargrove for some time on the small-town blues circuit. Like his hero Lightnin' Hopkins, Hargrove played electric blues steeped in rural traditions, and his music was a vital and evocative link between traditional country blues and modern electric blues traditions. Hargrove passed away in September, 2018.