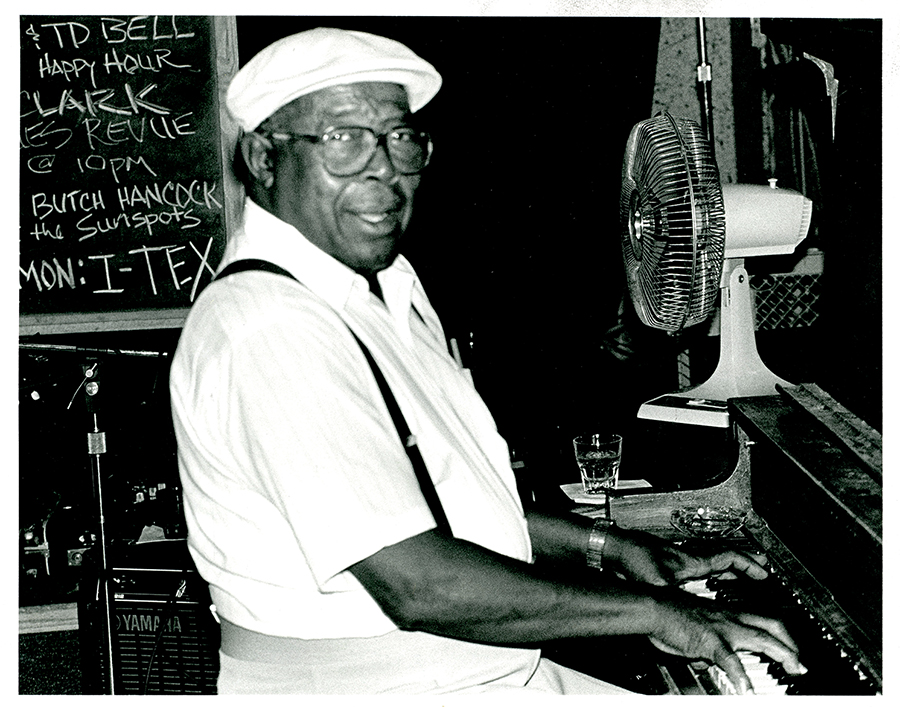 Erbie was born the youngest of ten children on May 5th, 1918 in Davilla, Texas. His mother played piano and accordian and his father played violin for country suppers. When Bowser was five, his family moved to Palestine where he learned to play the piano and sang in the church choir.
During high school in Palestine, he played with the "North Carolina Cotton Pickers" and toured through the South during the summers. After high school, he was a member of the "Sunset Royal Entertainers" that toured Texas out of Tyler. In 1942, he went to Odessa and worked for a drilling company. There, he teamed up with T.D. Bell and began to play at the Victory Grill in Austin in the early 1950's eventually relocating to Austin in 1953. Bell and Bowser formed a musical partnership that would last more than half a century.
In the Sixties, Bowser played the New Orleans Club with local artists such as Earnie Mae Miller, and "The 13th. Floor Elevators", then disappeared from view. In the eighties, Bowser and Bell emerged from semi-retirement to record an album entitled It's About Time, which brought new recognition and invitations to tour Europe. The duo performed as the "Blues Specialists" at legendary Austin venues like the Continental Club and Antone's.
Bowser's final project was playing with local legends Roosevelt "Grey Ghost" Williams and Lavada "Dr. Hepcat" Durst. Erbie Bowser succumbed to cancer on August 15, 1997 at the age of 77.