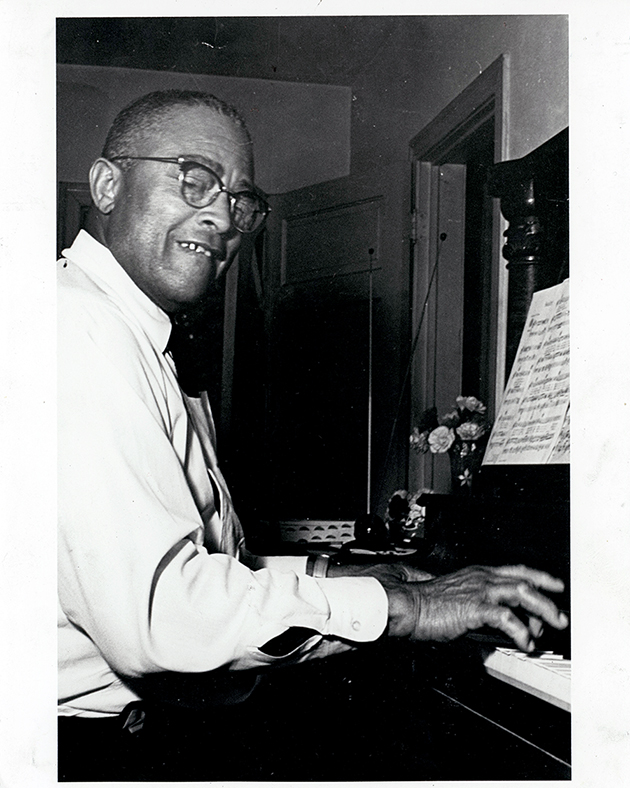 Robert "Fud" Shaw was born in Stafford, Texas on August 9, 1908. His mother taught him to play piano. In the 1920's, he began performing at youth parties before he left to work in juke joints, barrelhouses, and brothels from the Gulf Coast to Kansas and Chicago. In 1935, he settled in Austin, Texas and opened Shaw's Food Market and continued to perform for private parties.
In the 1960's, he was the subject of public radio and public television documentaries. He recorded an album in 1963 with the Arhoolie label. Concert promoter Rod Kennedy employed Shaw for 13 consecutive years at the Kerrville Folk Festival. Shaw was filmed by Film-maker Les Blanc, as well as the Smithsonian Institution, which featured him in the U.S. Pavilion at the World's Fair in Montreal, Quebec, Canada in 1971.
Shaw also won awards from Austin Masonic and Eastern Star lodges. Shaw performed at the Berlin Jazz Festival, the New Orleans Heritage Festival, the American Folklife Festival, the Border Folk Festival, Austin City Limits, and is listed in "Who's Who of The Blues."
In 1985, the Texas Legislature adopted a resolution stating that the 1986 "Celebrate Texas Music" tour, a statewide sesquicentennial celebration, would be dedicated to his memory. Shaw and his fellow barrelhouse pianist, Lavada Durst, performed on tour for the Texas Commission for the Arts. They were scheduled for a European tour together when Shaw passed away on May 16, 1985.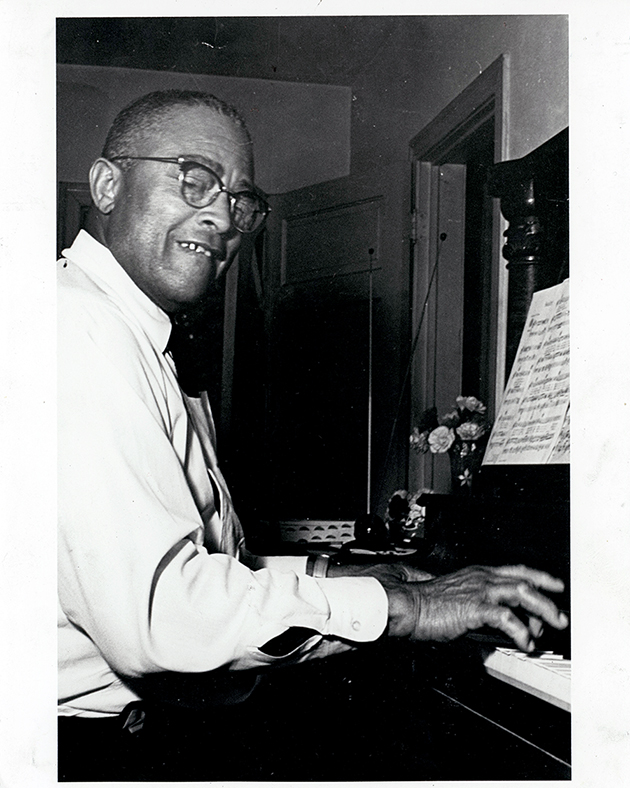 Robert Shaw at his piano, 1966, Recording with Terry Owens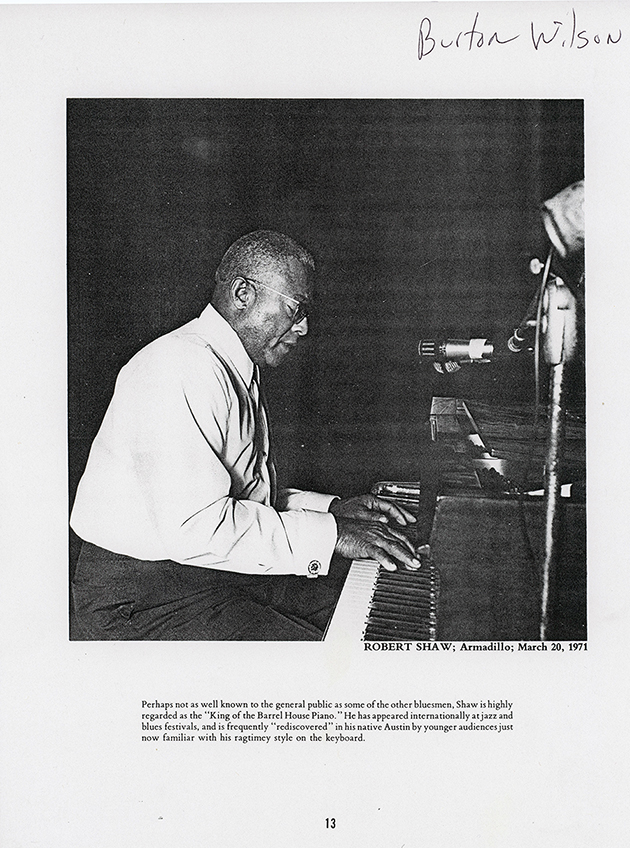 Robert Shaw at the Armadillo World Headquarters, by Burton Wilson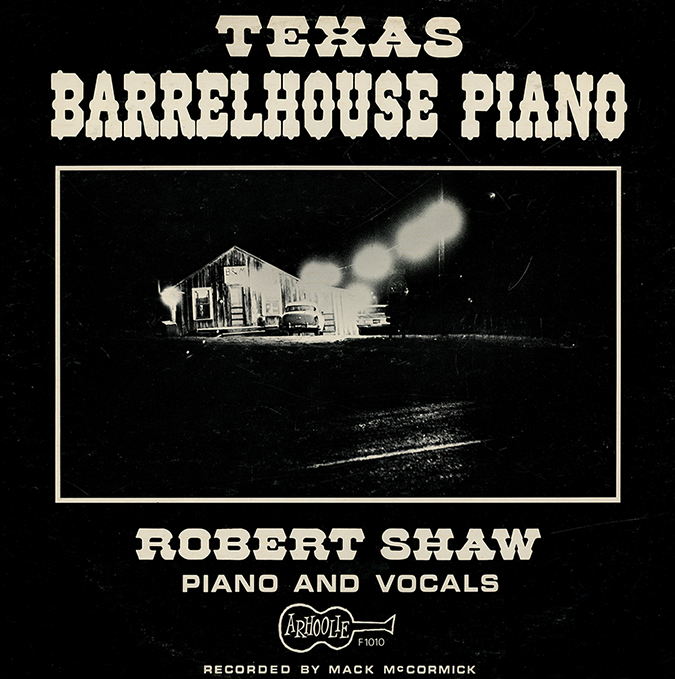 Texas Barrelhouse Piano, Robert Shaw, 1963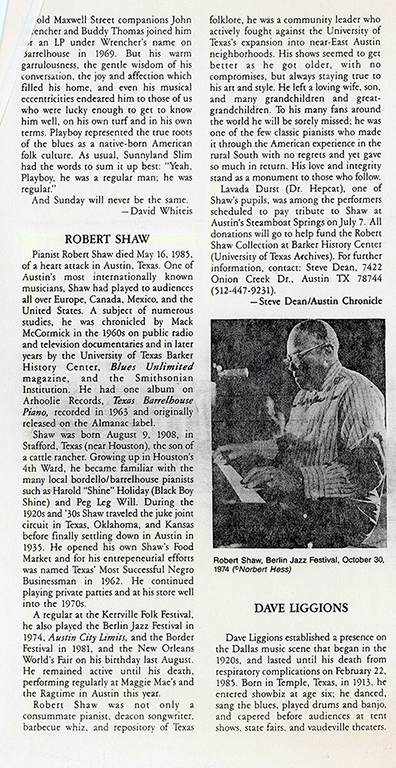 Robert Shaw Tribute, by Steve Dean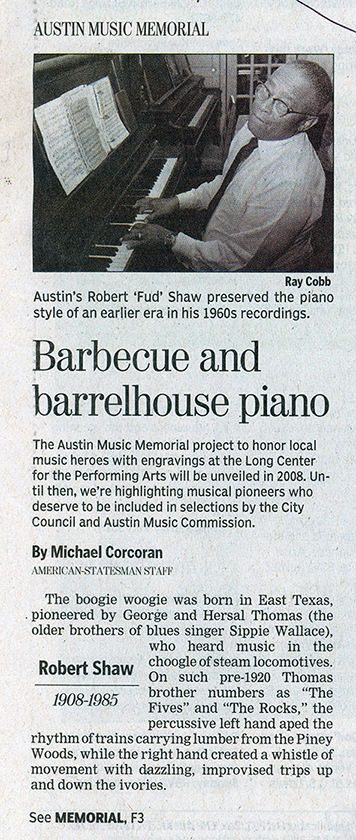 Barbecue and barrelhouse piano, by Michael Corcoran
Robert Shaw: The King of Barrelhouse by Bert Adams
Robert Shaw at the Armadillo World Headquarters, by Burton Wilson

March 20, 1971. Texas Music Museum Archives

Robert Shaw Tribute, by Steve Dean

Texas Music Museum Archives

Robert Shaw: The King of Barrelhouse by Bert Adams

Texas Music Museum Archives