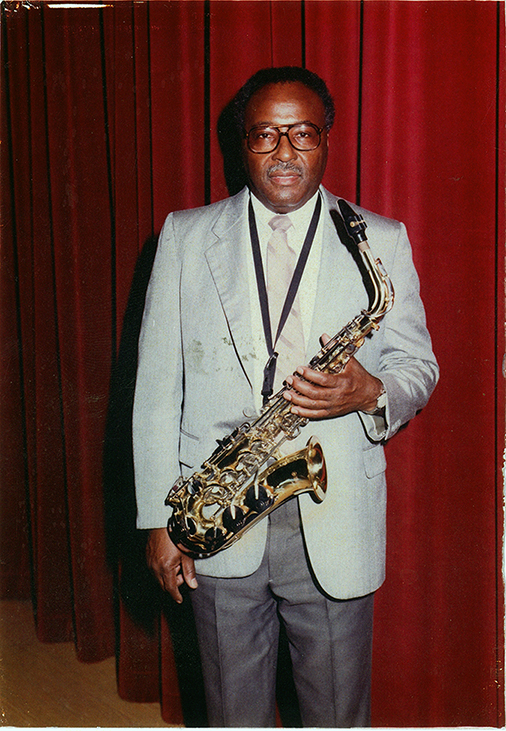 The saxophonist Walter Shaw was born on January 10, 1936 in Austin, Texas. He grew up close to East 11th street and, as a six year old, would peek through the window of the nearby Cotton Club, where he saw the bands of Duke Ellington and Count Basie. This early exposure to Ellington and Basie inspired Shaw and he was especially fascinated with the spontaneous performances of the improvising bands.
Like his childhood friend Kenny Dorham, he received his early musical training in the school bands of B.L. Joyce at Kealing Junior High and Anderson High School, but was also deeply influenced by recordings of R&B and bebop and the local radio broadcasts of Dr. Hepcat. In 1954, Shaw joined his first group with Erbie Bowser and Little Willie Bell.
In the mid 1950s, he entered the military and, during his service, played in a number of Air Force bands. In 1960, he returned to Austin, began to play with Blues Boy Hubbard and the Jets, and studied music at Huston-Tillotson College. As a member of Hubbard's band and Jean and the Rollettes in the 1960s and 1970s, he performed in the East 11th st. clubs during their golden era.
After the 11th st. clubs closed, he played regularly with Hubbard at Antone's first club on 6th street in the mid to late 1970s. In addition to being a musician central to the East Austin Blues and R&B scene, Shaw has been an important musical educator in Texas. Shaw directed music at Terrell High School in Denison, TX in the mid-1960s, taught at The Texas School for the Blind from 1968 to 1980, and served as the band director at Kealing Jr. High School between 1986 and 1991.