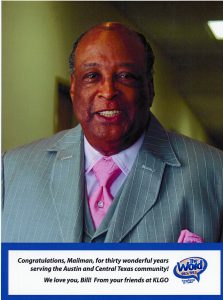 Martin was born on April 6, 1932 in Asheville, North Carolina. His parents, James and Olivia, sang in the adult choir of their church. Martin was the youngest of ten children and graduated from Stephens Lee High School in Asheville. He moved to New York to study music at Julliard, however due to the Korean War, he volunteered for the Air Force in 1952. After a tour of duty in Korea, Martin was stationed at Bergstrom Air Force Base in Austin, Texas.
In Austin, he met Evelyn, who became his wife of fifty years. She was the daughter of Rev. E. M. Franklin, pastor of St. James Missionary Baptist Church in Austin. Evelyn was a member of the very popular music group, the Chariettes. Bill and Evelyn Martin moved to New York for ten years where Bill drove a subway train. They returned to Austin in 1966, where the nickname Bill "The Mailman" originated, since he worked as a Post Office carrier for over 30 years.
In 1973, Rev. Franklin invited Martin to introduce and close a weekly radio program from the church. In 1980, the manager of Radio Station KIXL asked Martin to take over the Sunday gospel radio program. In 2010, Martin celebrated thirty years of presenting the program. During that period, Martin and Elmer Akins, who had a gospel program on Radio Station KVET, would promote all the gospel artists who came to Austin.
In 1989, Martin organized the Texas Gospel Announcer's Guild, which continues to be active throughout Texas. In 2010, Martin was honored with a celebration for his induction into the International Gospel Hall of Fame. Bill "The Mailman" Martin passed away on April 8, 2014.