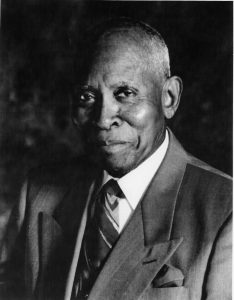 Elmer Akins was born on March 3, 1911 in Travis County, Texas. He attended school at the Pilot Knob School about nine miles southeast of Austin. He moved to Austin during the depression and ran a shoe shine stand at the McMillan Barber Shop on Guadalupe St. next to the Varsity Theater.
He began working at the Texas Supreme Court building as a handyman in 1942 and retired in 1976. He began singing tenor in 1944 with the "Royal Gospel Quartet" and later became their manager. The group had a program on radio station KNOW during 1945-1946.
In 1946, Elmer formed the Austin Quartet Association. He began his long career as a gospel announcer for KVET in 1947. He had been an active promoter of gospel music and had the longest running gospel music radio program in the United States. Elmer died December 5, 1998.