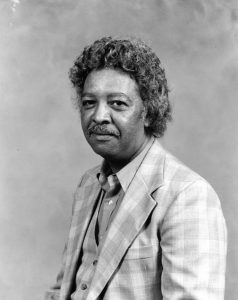 Born in Austin, Junior graduated from Anderson High School in 1950. In his teens, he organized a quartet with his two cousins, Thomas and Wilford Sneed, and his younger brother, James Franklin. This group, the Southern Clouds, sang together for a number of years. Junior had been encouraged to sing by his father, Rev. E. M. Franklin, one of the original members of the Paramount Singers.
In 1957, Junior organized a group called the Sensational Wonders, which was later renamed the Famous Mighty Clouds of Joy. His career with this group lasted almost 20 years and he wrote many of their major hits. Honors bestowed upon this group include two Grammys, six Grammy nominations, the NAACP Image Award and three Gospel Music Workshop of America Awards.
Junior resigned as manager of the Clouds in 1980 and joined Willie Neal and the Gospel Keynotes as a singer and manager for a year. His last musical contribution was as singer and manager for the Golden Echoes, which included Jackie, Lisa and Claudia Bonner.
Junior was called to the Ministry in 1991 and preached his first sermon in 1992. He served at Solid Rock Baptist Church until his death in February, 1996.