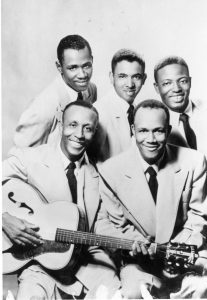 The Austin-based male gospel quartet, the original Bells of Joy, who were initially called the Starlight Gospel Singers, were founded in 1943. The group changed its name to the Bells of Joy in 1950. The name of the group was inspired by the words in Psalms 5:11 – "Let them also that love thy name be joyful in Thee: Bells of Joy sing His praise."
The original members of the group included Namon Brown (bass), A.C. Littlefield (lead), Ester Littlefield (tenor), Rev. Vernon Manor (lead), Clem Reed (lead), and A.D. Watson (baritone). In 1952, the Bells of Joy became very popular with their release on Peacock Records, Let's Talk About Jesus, written by Lavada Durst. The special style of the "Bells of Joy" made the hymn a national hit. In 1953, Clem Reed left the group, due to injuries he received in an automobile accident while touring with the group. Robert Dalkins joined the group at that time.
In the mid-seventies, Alton "Red" Cyphers also joined the group. The "Bells of Joy" have enjoyed success with their recordings, including an album on Big Tex records. The "Bells of Joy" continue to put joy into the inspiring words of old and new songs done in praise of the giver of real joy.