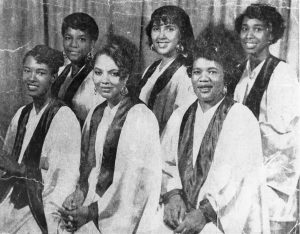 With the encouragement and sponsoring of Rev. E.M. Franklin, the gospel group the Chariettes formed in 1950. The group included Evelyn Franklin Martin and Dorothy Franklin Anthony who sang at the St. James Missionary Baptist Church and Dorothy Dixon Wilson and Willie "Gene" Landrum Denmon who sang at St. Paul Baptist Church. The four girls were beginning high school when they enlisted pianist Mertle Walker to join their fledgling group.
In 1951, they sought the help of Lavada Durst, also known as "Dr. Hepcat," and started singing on his radio program on KVET. The Chariettes performed locally and also broadcasted from station KVET on Elmer Aiken's gospel program. Rosie Lee Alexander, also known as "Mrs. Aunt Kitty", became the second accompanist for the group. In 1952 her niece Emma "Jean" Easily Dixon joined the group as the fifth member.
The group quickly gained popularity and in 1953, they began recording for Duke Records. With Della Routt Clemons accompanying their vocal harmonies, they produced such popular songs such as Step By Step, Sing with the Angels, and Prop Me Jesus, all of which sold well throughout the country. The lyrics were written by Lavada Durst and the group members composed the melodies. Ernestine Routt Hill later replaced Emma "Jean" Easley Dixon as the group's accompanist.
The Chariettes disbanded in 1953, as the members finished high school, went to college, moved, or married. The group gained distinction because each member's voice had a unique musical quality and all were talented musicians. The Chariettes celebrated their fiftieth anniversary with a reunion at St. James Missionary Baptist Church on July 2, 2000. Group member Evelyn Franklin-Martin passed away October 23, 2005.