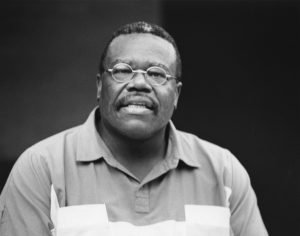 Tim Curry was born November 24, 1951 in Midland, Texas. He started singing at age 5 and later, in his kindergarten, elementary and high school choirs. Curry graduated from Robert E. Lee High School in Midland in 1970. He traveled to Denver, San Francisco, and Southern California.
Curry moved to Austin at 19 and traveled around the U.S. with the World of Pentecost Church Choir; which he was a member from 1972 to 1984. Curry also formed a band with members from his church called Street Band during this time. They performed Rock, Gospel, and Soul. In 1984, Curry attended Wesley United Methodist Church and produced an album for the church choir. That same year, he received the award for "Best Contemporary Gospel Artist of the year" from the Gospel Workshop of America.
Since then, Curry has produced several solo albums, one of which is titled Make Up Your Mind. He played regularly at the Saxon Pub and Victory Grill. He has also appeared in Zachary Scott Theatre's productions of Gospel at Colonus and Dreamgirls. Curry recently finished shooting a Texas-filmed movie called Sweet Thing. Tim Curry passed away on February 7, 2015.