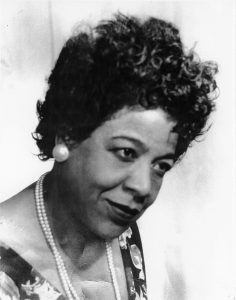 Virgie Carrington DeWitty's parents moved to Austin from Wetumka, Oklahoma when she was a very young child. She attended Phillips White Academy, Huston-Tillotson College, and Prairie View A&M College. Her graduate training was done at the American Conservatory of Music in Chicago, Boulder University, the Juilliard School of Music, and the University of Texas at Austin.
Mrs. DeWitty composed over eighty-five anthems, spirituals, and gospel songs for choirs, including the L.C. Anderson High School song. She directed the choir of the Ebenezer Baptist Church in Austin for more than fifty years and was a music teacher for the Austin Independent School District. She was the first African American choir director to have a commercial radio program in Texas with the Bright And Early choir.
She also directed the first 1500-voice chorus at the Astrodome in Houston for the National Baptist Convention. Mrs. DeWitty was a charter member of Alpha Kappa Zeta chapter of Zeta Phi Beta sorority and the Frederick Douglass Civic Club. She passed away on August 11, 1980.