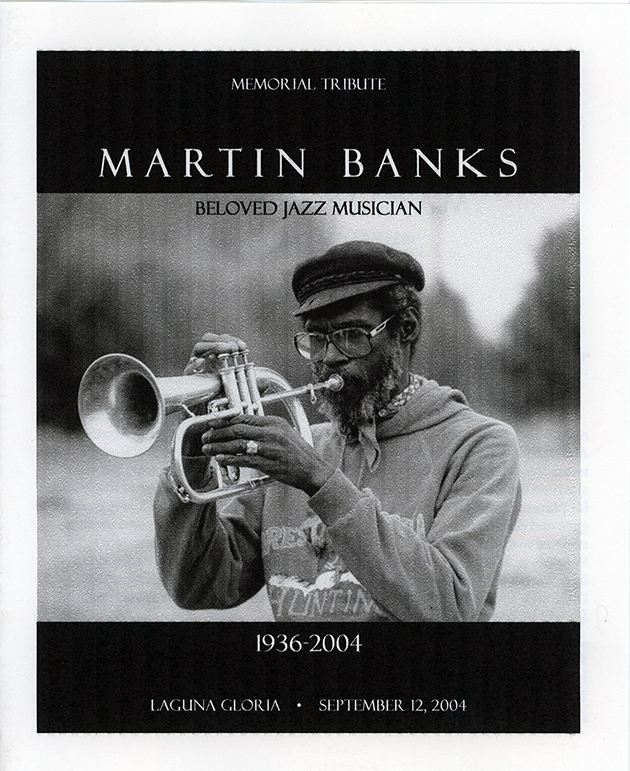 Martin Banks was born June 21, 1936 and grew up in Austin, Texas.  He attended old Anderson High School, where his father, Buford, had also played in the school band under the direction of Mr. B. L. Joyce.
His brother, La Rue, also a talented musician, played with the Patterson Brothers in Austin. Following graduation from high school in 1953, Martin joined his uncle La Rue Mays in San Francisco during a period when jazz was really jumping.  He traveled around the area with his uncle and would sit in with various groups and met many important jazz musicians.
From 1955, he lived and played in the Los Angeles area where he also studied music at Los Angeles City College.  In 1959, he went on the road with the Ray Charles Band and visited New York City for the first time.  He played with the Lloyd Price Band and worked with the Motown Review.
From 1963 to 1971, he played at the Apollo Theater in New York with most of the fine musicians of the day.  During the 1970's and early 1980's he toured with the Duke Ellington, Count Basie, and Lionel Hampton bands and others.  He played in Broadway musicals such as "Hair" and "The First" and films such as "Cotton Comes to Harlem," "Box Office" and "Notorious Landlady."
Banks has recorded on numerous labels such as Impulse, Columbia and Atlantic Records. In the late 80's, 90's and early 2000's he performed regularly in Austin, Texas.  Martin Banks died suddenly in Austin, Texas on August 20, 2004.