Greetings Texas Music Museum Friends & Fans!
For 38 years the Texas Music Museum has collected and preserved artifacts, documents and reference material surrounding the diverse traditions of Texas music, then utilized these collections in the presentation of public exhibits, educational programs, and live performances.
In order to continue doing this important work, we must ask for your support TODAY!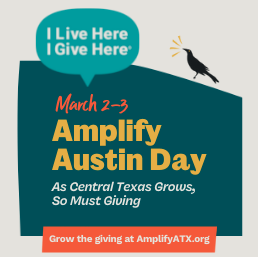 On March 2-3, TMM will participate in the Amplify Austin fundraising event and we are asking you to consider helping us in any of the following ways:
Make a donation as part of the  Texas Music Museum – Amplify Austin fundraising campaign
Visit our website & Become a Museum Member TODAY!
Help us spread the word amongst your friends, colleagues, and family members by sharing our TMM – Amplify Austin link and interacting with our Social Media posts regularly.
The TEXAS MUSIC MUSEUM is a treasury containing a unique historical collection that tells the story of the musicians who made Austin (& Texas) the Live Music Capital of the World! 
Our mission wouldn't succeed without donations from generous people like you.  
Are you ready to AMPLIFY, Austin?!
We are grateful to you for your continued support!